Best Anti-Cellulite Body Wrap Tips For Smooth Tight Legs And Abs
Best Anti-Cellulite Body Wrap Tips For Smooth Tight Legs And Abs
5 Quick Steps To Get Rid Of Cellulite FAST!
January is almost over and before you know it, the weather will start getting warmer which means, shorts and bikini time! Don't wait a month before the summer vacation to try to drop the pounds or get rid of unsightly cellulite. The time is now to begin your Best Body Ever rejuvenation journey! One thing we call all agrees on and that is cellulite sucks! There are many ways to get rid of cellulite. One popular way, is by getting anti-cellulite body wraps at a spa or salon. Though this way may be great, it can become very costly over time because if often takes more than one procedure to do the trick. DIY anti-cellulite body wraps are the newest way and not only do you save money and time, you get amazing results. Keep reading to learn how you can get rid of thigh dimples and tummy jiggles with the best anti-cellulite body wrap tips for smooth, tight legs and abs.
First…What is Cellulite?
Cellulite is a term used to describe the dimpled appearance of skin caused by fat deposits that are just below the surface of the skin. It generally appears on skin in the abdomen, lower limbs, and pelvic region, and it usually occurs after puberty. Cellulite is also known as adiposis edematosa, dermopanniculosis deformans, status protrusus cutis, and gynoid lipodystrophy in the medical field and as orange peel syndrome, cottage cheese skin, hail damage, and the mattress phenomenon in colloquial language.
What causes cellulite?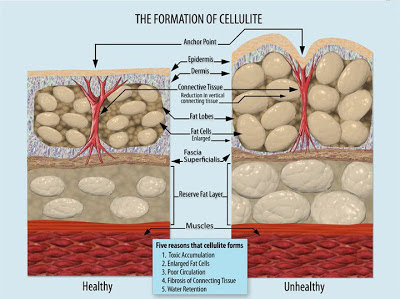 The causes of cellulite are not well understood, but there are several theories that have been put forth as explanations. Among these are:
Hormonal factors – hormones likely play an important role in cellulite development. Many believe estrogen, insulin, noradrenaline, thyroid hormones, and prolactin are part of the cellulite production process.
Genetics – certain genes are required for cellulite development. Genes may predispose an individual to particular characteristics associated with cellulite, such as gender, race, slow metabolism, distribution of fat just underneath the skin, and circulatory insufficiency.
Diet – people who eat too much fat, carbohydrates, or salt and too little fiber are likely to have greater amounts of cellulite.
Lifestyle factors – cellulite may be more prevalent in smokers, those who do not exercise, and those who sit or stand in one position for long periods of time.
Clothing – underwear with tight elastic across the buttocks (limiting blood flow) may contribute to the formation of cellulite.
This Is Why Cellulite Sucks!
It impedes circulation, creates unsightly spider veins, cottage cheese and orange peel looking patterns appear when you sit or put pressure on it. It interrupts circulation so your skin does not get the proper oxygen and nutrients it needs to regenerate and rejuvenate. Thereby creating uneven bumps, lumps, uneven skin tone, rashes, even eczema. That totally sucks.
The great news is, you can get rid of cellulite with anti-cellulite cream body wraps. You can spend a truck load of money on them at the spa or salon or you can do them DIY style in the comfort of your own home. The following are the best anti-cellulite body wrap tips for smooth tight legs and abs.
Tip #1 – Exfoliate
Exfoliate Your Skin First with Dry Brushing – Dry brushing increases blood circulation and it gives the toxins that are trapped in your thighs a way out. Always choose a dry brush that has natural bristles
Tip #2 – Apply Anti-Cellulite Cream
Apply Anti-Cellulite cream to all affected areas – Massage the cream into the skin with circular motions until well absorbed. Tightly wrap with saran wrap around each area you want to eliminate cellulite.
Tip#3  – Wrap With Warm Towels And A Blanket
For better results, place warm towels on your body or a cover your body with a bed sheet and rest under an electric blanket. This will cause your pores to open up allowing the product to work more effectively.
Tip # 4 – Relax 
Relax- Allow the treatment to stay on your skin for about 30 minutes. Listen to soft soothing music, a book on tape or anything that will allow you to get relaxed. After 30 minutes, remove blanket, sheets or towels, and saran wrap. Some anti-cellulite creams will suggest you shower afterward to remove residue.
Tip# 4 – Massage 
Finish with an Anti-Cellulite Massage – Apply a skin moisturizer or body skin tightener generously to affected areas. Start massaging from the feet up or lowest point moving upward toward your heart. Use long sweeping strokes using moderate pressure. Then use circular motion and apply pressure. End with broad relaxing strokes to smooth and relax the body.
Don't Forget To Hydrate And Eat Right! 
Make sure you drink plenty of fresh water and follow healthy fat-burning diet to help release even more toxic fat. You can give yourself a treatment at least 3x a week, or as directed.
How Do Anti-Cellulite Creams Work?
In a nutshell, they help to break down fatty acids (lipids) in the body. Then you can flush them out by drinking water and following a good fat burning diet. It also helps reduce water retention that makes cellulite worse due to swelling, inflammation and puffiness. It also helps smooth the skin and evens the skin tone. When you have blocked circulation, the skin does not get the oxygen it needs to be healthy, smooth, even tone and vibrant. To demonstrate the power of the ingredients, here are just three of the ingredients and their power in helping reduce cellulite, improve skin tone and overall health.
Are all anti-cellulite creams the same?
Not all anti-cellulite creams are the same. Many of them fill their jars with cheap useless waxes, petroleum, and synthetic oils that clog your skin and add even more toxins to your fat cells!!! These are inert compounds that do nothing for your body, but increase the toxins that seep into your healthy cells making them clogged, unhealthy and suffocated. They even go as far as to put them in big bottles so you feel like you're getting you're getting a good deal. All you are getting is more fat cells that are being poisoned by their unhealthy petroleum and wax! You skin cannot breath when you put wax on it! That is the opposite of what we want to achieve!
Here's What We Recommend!
 THE BEST EXTREME SLIMMING CREAM on the market that is the purest and most potent form of fat destroying ingredients and it's now available for you to buy at home without traveling for hours to an expensive spa. Imagine having Hollywood Celebrity Skin without leaving your home!
Performs Better Than SPENDY Snooty Spa Formulas!
The most amazing thing of all comes from the fact that Extreme Slimming Cream performs just as well — and in many cases even BETTER — than those expensive spas that want to make a small fortune off each rich client. These are super expensive companies that are situated in very expensive buildings and have international advertising campaign. This all cost a fortune, so they have to pass the expense on to the poor customer who just wants to lose some inches, get rid of cellulite and firm their skin for a special occasion. Many of these treatments go for $170.00 – $280.00 a session and the creams they use don't have half of what is in this formulation. Extreme Slimming Anti-Cellulite Cream has 29!
Not only do these spas charge a fortune, their treatments usually are less than an hour. You can leave this on as long as they want and use it every day!
Also some of those expensive spa treatments are loaded with diuretics and if you loose to much water too fast, it can be dangerous and leave you with some potentially dangerous side effects.
Extreme Slimming Anti-Cellulite Cream can also be used during exercise workouts and/or under Victoria's Sexy Waist Trainer. 
ABOUT THE PRODUCT
LOOK GREAT NAKED! FAVORITE PLASTIC SURGEON'S FORMULATION. Super-concentrated complete formulation of highly active ingredients penetrates deeply to release toxins, break up fat and tighten skin. Support the cells deep within the dermal layer to restructure in a way that results in a tighter, toned skin surface. This is the best Extreme body slimming cream choice for our models, athletes, competitors and dancers from Rio to the Ranch, Singapore to Spain and South Beach to Santa Monica!
BEST SKIN TIGHTENING ANTI CELLULITE CREAM FIRMING LOTION REDUCES DIMPLES, LUMPS ORANGE PEEL LOOK Natural Herbal Lipo Infusion. The root cause of cellulite is a toxic load in the fat cells, resulting in dimpling and improper cellular structure. The active ingredients in this formulation dissolve toxins, breaks up fatty tissue escorting them out of the hydro-cellular system beneath the skin. Then they are metabolized and flushed away. Leaving healthier and smoother sexy skin.
POTENT FORMULA TIGHTENS and TONES Sagging Loose Skin Arnica penetrates deeply to enhance cellular integrity, and the purifying concentrates detoxify the area where product is applied. Thighs buttocks, abdomen, and arms will all respond in a little as twenty minutes to begin the process to lift, add firmness, tone and sleek lines.
NATURAL CELLULITE CREAM DISSOLVES CELLULITE For an added boost, Lipolysis (fat burning) fat dissolving elements permeate this product. The transdermal effect drives the ingredients deeper into the cells; while lipolytic fat flushing ingredients live up to extensive clinical testing and literally dissolve cellulite beneath your skin. This formula is powerful and unique. This Powerful and results getting complete fat dissolving and skin tightening formulation is unmatched.
MADE IN THE USA in a FDA Approved and GMP Certified Manufacturing Facility. You will love how your skin feels and looks. When lady lumps and baby bumps are not an option. This is your secret weapon to look great naked!
People who are successful at attaining their dream body never put off till tomorrow what they can start today! Imagine having everyone say how amazing and sexy you look with your new fit body and smooth anti-cellulite legs and abs! Start your beautiful legs and abs journey today! Order here!
5 Steps To Get Rid Of Thigh Dimples And Tummy Jiggles For Good!
,
anti aging
,
Anti Cellulite
,
anti cellulite cream
,
anti-aging tips
,
anti-cellulite body wrap tips
,
anti-cellulite tips
,
best cellulite cream
,
body cleanse
,
Body Cream
,
body wrap tips
,
body wraps
,
botanical
,
Caring for the skin
,
Cellulite
,
cellulite body wraps
,
cellulite cream
,
cellulite exercises
,
cellulite legs
,
cellulite on stomach
,
cellulite reduction
,
cellulite removal
,
Cellulite Treatment
,
Exfoliate
,
firm
,
firm skin
,
how to get rid of cellulite
,
improve skin texture
,
moisturizer
,
organic anti-cellulite cream
,
skin rejuvenation
,
smooth and healthy skin
,
smooth legs
,
smooth skin
,
tighten loose skin
,
waist cincher
,
weight loss